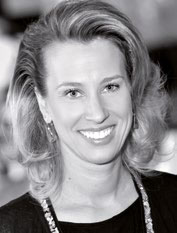 Ladies and gentlemen,
Individual. Inspiring. Innovative. These words describe the things that await you at INHORGENTA MUNICH.
INDIVIDUAL: You are the person in the spotlight. Always in focus: Your business success. With plenty of time and opportunities for personal contact.
INSPIRING: Come up with new ideas. In the designer hall C2, in the jewelry shows, in the top-class INHORGENTA forum: Gain all sorts of inspiration.
INNOVATIVE: Take the lead. Discover the new collections, contemporary jewelry and watch designs and future-driven technologies.
We are really looking forward to welcoming you to INHORGENTA MUNICH 2018.
Yours sincerly, Stefanie Mändlein
INHORGENTA MUNICH Exhibition Director